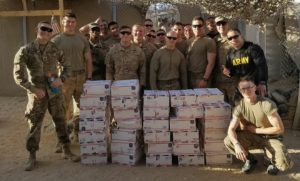 WE DID IT! WE HIT OUR GOAL!
In two hours and five minutes we were able to pack and send out 608 care packages to 9 different units serving in combat zones in Afghanistan, Iraq, and the Horn of Africa. Along with these packages we sent out 9 artificial Christmas trees with lights and ornaments; for a GRAND TOTAL of 617 boxes! We couldn't have done it without the help of over 120 guests, including SANTA, who were able to make it to our event at the Elks Club in St. Johnsbury.
Our hearts are overwhelmed at the support this organization continues to receive from local businesses and community members. Our reach is moving further across the state and it excites us for next year!
Now we wait. We wait for those 9 names to be announced at mail call. Some of those names receiving over 200 boxes! May our mission continue by raising the spirits of those serving, if only for a few moments, letting them know they are loved and supported by this tiny community of people with gigantic hearts in our home state of Vermont.